Description
Details
Resolution up to 5.7K/30fps unstitched and 4K/30fps with in-camera stitching

2

4 built-in microphones capture 360-degree audio
4K spherical stabilisation

3

ensures a smooth video regardless of camera movement
Built-in sensors provide G-Metrix

™

data overlays in 360-degree augmented reality

4

Easy-to-use, free VIRB

®

Mobile app and VIRB

®

Edit desktop software let you edit, stabilise, share and add data overlays to videos
Constantly record for more than 1 hour on 1 charge
VIRB 360 is the first of its kind, capturing a complete sphere of high resolution video and audio – even photos. It eliminates the lengthy editing process with unrivaled 1-click video stabilisation up to 4K resolution at 30 fps and allows you to instantly livestream5 any adventure.
Defining a New Standard for Full-sphere 360 Video and Audio Capture
If it's worth remembering, it's worth a VIRB 360. This rugged, waterproof1 camera is true to its name, recording the full 360 degrees — horizontally and vertically. And you can forget about time-consuming post-production work, because VIRB 360 will auto-stitch2 your 4K footage in camera. If you're looking for higher resolution, you can record video in unstitched 5.7K resolution at 30fps.
You can choose between different recording modes such as time lapse, manual and more. Even capture 360-degree photos, burst shots, time lapse and Travelapse™ photo capture up to 15 megapixels — stitched in camera. Combined with the 4 built-in microphones for 360-degree audio, you and your viewers will be totally immersed in the 360 experience.
Captures Spherical Stabilised 4K Video with 1 Click
Take a shaky, hard-to-follow video, and turn it into a smooth and stable masterpiece in 1 click. Regardless of camera movement, the 3 modes of 4K spherical stabilisation3 ensure a smooth video. Stabilise mode smooths quick movements and vibrations without overriding camera orientation. Use lock mode to secure the orientation of the camera in a specified direction. In follow mode, the orientation follows the GPS trajectory. Check out this video to see the difference our advanced stabilisation makes.
Edit Videos and Livestream on the Go
With the free, easy-to-use VIRB Mobile app and VIRB Editdesktop software, you can edit, stabilise, share and add data overlays to videos. Use the VIRB Mobile app to connect the camera to your compatible Apple® or Android™ device5. Connect your NFC-enabled Android smartphone to the camera with just 1 tap of your phone on the camera. Then, use your smartphone as a remote control for the camera, see live 360-degree video of what you are recording, use a virtual reality (VR) device to instantly view your 360 videos in VR, or livestream to YouTube® and Facebook®6.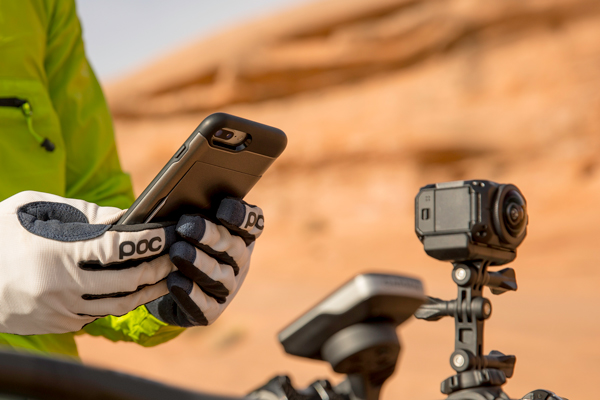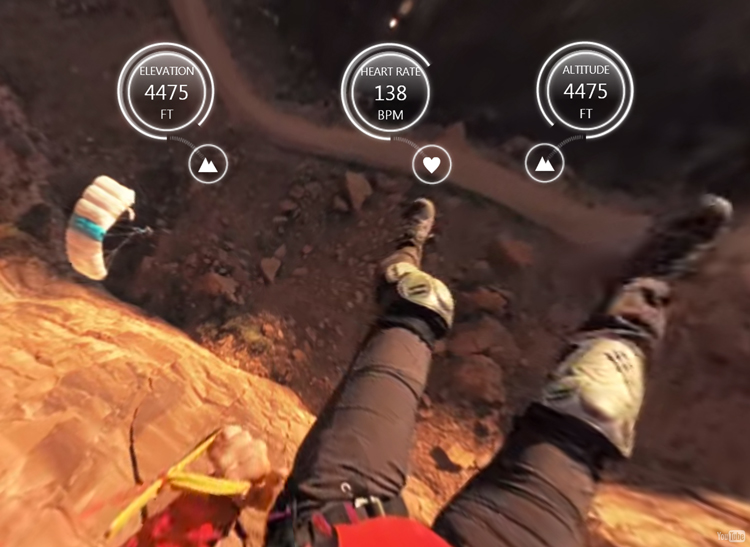 Data Overlays with G-Metrix
Retell your story in greater detail than ever before. Built-in sensors, such as GPS and GLONASS, barometer, accelerometer and more, provide countless customisable G-Metrix data overlay options in 360-degree augmented reality2. Just select premade templates of the data points you want, and see your custom data overlay displayed in your video.
Control It with Your Voice
"OK Garmin, start recording." It's that easy. When you are about to speed down a rugged hillside, chances are you don't want to reach up and press start. Now you can just use a voice command7, and the camera will start and stop recording and take photos. Or ask VIRB 360 to "remember that" to tag specific moments in your adventure and quickly find them again later.

Make a Splash
This rugged camera is built to endure everything from a whitewater adventure to a child's birthday party. VIRB 360 is waterproof1 to 10 meters , small and lightweight enough for any adventure, and it features strengthened glass lenses you can easily replace without tools. The camera works with our durable mounts as well as other standard mounts and accessories, and it can shoot more than 1 hour on a single battery charge. The sunlight-readable display shows battery, storage, mode and connectivity status. VIRB 360 can do it all.
1See Water Rating
2On-device stitching only up to 4K/30fps
3Stabilisation is applied using VIRB Mobile app or VIRB Edit desktop software and is only available for videos stitched in camera
4G-Metrix™ augmented reality overlays are added using mobile or desktop app before sharing
5Livestreaming only available on compatible Apple® devices
6See Garmin.com/virbapp for compatibility
7Voice control available for English (U.S., U.K.), French, Italian, German, Spanish, Swedish, Japanese and Mandarin
8Using the "4K stitched-in-camera" default setting
For the best viewing experience, we recommend you watch 360 videos in the YouTube app on a mobile device or tablet.
Apple® is a trademark of Apple Inc., registered in the U.S. and other countries.
Dimensions

Weight
133 g without battery; 160 g with battery
Unit size (HxWxD)
39.0 x 59.3 x 69.8 m
Water Rating
10 m
Temperature range
0 to 40_ C (32 to 104_ F), operating; 0 to 45_ C (32 to 113_ F), charging; -40 to 85_ C (-40 to 185_ F), storage
Memory
UHS-I, Class U3 or higher microSD™ card (card not included), up to 128 GB. Recommended cards
Battery
rechargeable lithium-ion
Battery life
up to 1 hour 5 minutes
Video

Video resolution
5.7K/30FPS, unstitched; 5K/30 FPS, unstiched; 4K/30FPS, stitched; 3K/60FPS, unstitched
Video modes
video and time lapse
In-camera stitching
yes, up to 4K/30FPS
360 audio
yes (4 microphones)
Spherical stabilization (up to 4K)¹
3 modes: stabilize, lock, follow
Maximum bitrate
up to 120 Mbps (5.7K RAW)
Manual camera controls
yes (white balance, exposure, etc.)
VR compatible
yes
Field of View
360 degrees, vertical and horizontal
Single lens mode
yes
G-Metrix

Augmented reality data(G-Metrix)²
yes
GPS/GLONASS
10 Hz location capture
Accelerometer
yes
Barometer
yes
Gyroscope
yes
Compass
yes
Photo

Photo resolution
up to 15 megapixels (stitched-in-camera)
Photo modes
single shot, burst shooting, exposure bracketing, time lapse, travelapse
Manual camera controls
yes (white balance, exposure, etc.)
Field of View
360 degrees, vertical and horizontal
Single lens mode
yes
Single lens mode

Wireless
Wi-Fi®, Bluetooth®, near field communication (one-tap connection with Android), ANT+
Smartphone compatible³
yes
Livestream (Apple® devices only);
Facebook® and YouTube® available when VIRB 360 is wirelessly connected to a compatible iPhone® or iPad®
Mobile app
VIRB® (control, edit, stabilize, augment, share)
VR mode
playback compatible with cardboard headsets
Desktop software
VIRB® Edit (edit, stabilize, augment, share)
Desktop software

Remote control
Garmin devices, mobile app
Voice control
yes
One-button contro
yes
Real-time 360 viewing
yes with VIRB App
Replaceable glass cover lens
yes
Sunlight readable display
yes
Mounts
standard tripod and action
In the box:
VIRB 360 action camera
Lithium-ion battery
Charging/data cable
Tripod cradle (1/4"-20)
Action cradle
Grippable tripod
Documentation
Additional Information
Additional Information
| | |
| --- | --- |
| Brand | Garmin |
| MPN | 010-01743-05 |
| EAN | 0753759180263 |
Reviews
G. Jörg
08/26/2017
5
/
5
Die Garmin hat starke schwächen aber ist eine gute 350 Grad Cam. Ich denke Mal das hier noch einiges kommen könnte an Software Möglichkeiten.
D. Nicola
07/21/2017
5
/
5
Ottima
G. Jörg
08/26/2017
5
/
5
Die Garmin hat starke schwächen aber ist eine gute 350 Grad Cam. Ich denke Mal das hier noch einiges kommen könnte an Software Möglichkeiten.
D. Nicola
07/21/2017
5
/
5
Ottima